Turbine Oil condition monitoring kit
Turbine Oil Condition Monitoring and Analysis kit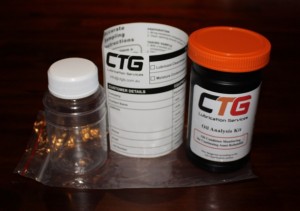 Turbine Oil condition monitoring and analysis kits measure oil ISO cleanliness, moisture contamination, Remaining Useful Life (RULER) and MPC Varnish Potential of the oil sample.
All these tests are recommended by Siemens in their "Proactive turbine oil condition monitoring and varnish protection".
Efficient turbine maintenance can be achieved with CTG's Turbine Oil Analysis Kits.
The Turbine Oil Analysis Kit goes beyond routine industrial oil analysis to include remaining useful life (RULER) and membrane patch colorimetry (MPC).
TESTS
Oil cleanliness (ISO 4406)
Water contamination (ppm)
Remaining useful life (ASTM 6810 and ASTM 6971)
Membrane patch colorimetry – MPC Varnish potential testing (ASTM 7843)
KIT INCLUDES
Sample bottle for used oil
Sample bottle for new reference oil
Sampling instructions
Reply Paid mailing container for sample return
Scheduled turbine oil condition monitoring and analysis detects the early warning signs of mechanical, operator and environmental events to enable corrective action be taken before any reduction to turbine reliability, availability and lifespan occur.
Oil condition monitoring ensures that decisions on scheduling oil changes, filtration system effectiveness, turbine varnish and other maintenance tasks are based on fact and are not purely time dependant like the number of hours, days or years of operation.
Turbine Oil condition monitoring and analysis kits provide lower operating costs by
Increasing turbine reliability
Increasing turbine component life
Ensuring the lubricant is suitable for continued use
Reducing unscheduled downtime
Reducing maintenance and labour hours
Reducing oil purchases
Reducing used oil disposal
Contact CTG for pricing and to order Turbine Oil Condition Monitoring Kits